Karate Uniforms And Suits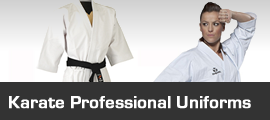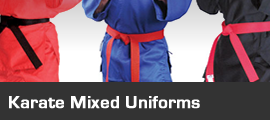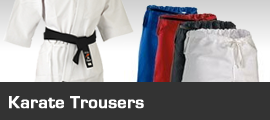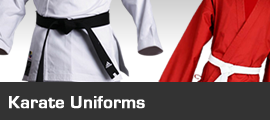 We offer premium professional and beginner karate uniforms in both kid and adult sizes.
The beginners Karate Gis are available in two fabric choices – polycotton and cotton. This entry-level karate suit is 8oz in either fabric, making it the lightest uniform we have to offer.

Our 10oz silver brand suit is of a higher quality than the beginner's suit and is designed to support you as you advance in your learning. Offered only in cotton fabric, this karate gi will allow you to continue your training with more resistance – necessitating refinement of your movements.
The heavyweight karate uniforms are available in two weights – 14oz and 16oz – and are only offered in adult sizes. Many wearers find this karate gi to be quite wide, so we've released a version of the heavyweight uniform in an athletic slim-cut version as well. The weight options offer a variety of difficulty as you continue your training, while the fit options will give you the ability to be comfortable regardless of your frame size.

All of our karate uniforms are offered in both black and white, giving you the freedom to choose the best gi fit for you. With the varying fabrics, weights, and fits – we aim to help you get into a karate suit that you feel good in.
Who's Online
There currently are 216 guests online.